UCS Manager is used to graphically manage a Cisco UCS Domain. Because I've been using it for several years, I have gotten quite used to the various quirks that are presented by the user interface – such as randomly placed buttons and a slew of pop-up boxes. But, did you know that there is an options menu that can help streamline a number of interface options within Cisco UCS Manager? Most people don't – and so I've compiled a list of options that I prefer to tweak, what they do, and why I like them.
No More Pop Up Boxes
UCS Manager likes to present pop up boxes. There are boxes presented when you create, modify, delete, discard, and successfully complete tasks. And although I typically use scripts for grand scale sized configuration, I do let my mouse wander around UCS Manager enough that I've historically found these pop ups annoying. Especially the one that lets you know that your action was successful.
If you navigate up to the Options button, found towards the top of UCS Manager, you'll find a hefty number of preferences that can be tweaked.
Within this hidden gem of user preferences resides a paradise of confirmation message choices for the following actions:
Confirm Deletion
Confirm Discard Changes
Confirm Modification / Creation
Confirm Successful Operations
I turn off all of them except for the first one, Confirm Deletions, since that one seems logical to leave on. I wish that "Confirm Successful Operations" would just become "Let Me Know Which Stuff Fails" instead. 🙂
Feel free to check more boxes than just the first one if you feel paranoid that you're going to make a mistake within UCS Manager.
[symple_box color="red" text_align="left" width="100%" float="none"]Note: The settings are local to your workstation, not the user account.[/symple_box]
Enable Table Packing and Disable Wizard Fade
The other change I make is to the Visual Enhancements section. Specifically, I turn on Automatically Pack Table Contents and disable Wizard Transition Effects as shown below.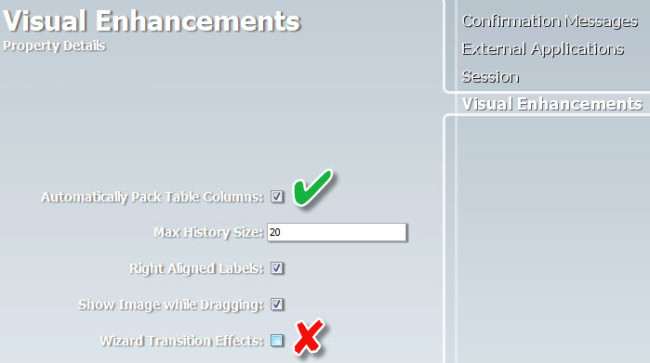 Curious what these do? Automatically Pack Table Contents will automatically format tables so that they fit neatly on the screen. You could also use the manual option within UCS Manager as shown below:
Wizard Transition Effects will cause a "fade through" effect every time you click next on each screen of a wizard. This is horribly annoying when viewed over a remote connection with visual latency lag (WAN). Unchecking this option will simply cause screens to instantly change when you click next.