After upgrading to ESXi 5.5 Update 1, my lab was severely affected by All Paths Down (APD) states for my NFS datastores. This was later documented as a bug by KB 2076392 entitled Intermittent NFS APDs on VMware ESXi 5.5 U1. Every day I would have issues with NFS – which is the primary protocol I use to present storage from my multiple Synolog NAS boxes – ultimately forcing me to roll back to ESXi 5.5 GA.
A few days ago, VMware released patch ESXi550-201406401-SG to address the NFS APD situation. I kicked off a VMware Update Manager (VUM) job to pull down new patches, and then found the one I was looking for: an update to esx-base for 5.5 with a patch ID of ESXi550-201406401-SG. In the summaries and symptoms section, the following item is shown as resolved:
PR1242103: When you run ESXi 5.5 Update 1, the ESXi host intermittently loses connectivity to NFS storage and an All Paths Down (APD) condition to NFS volumes is observed. During the duration of the APD condition and after, the array still responds to ping and the netcat tests are also successful. There is no evidence to indicate a physical network or a NFS storage array issue.
Below is an example of what the patch looks like in VUM.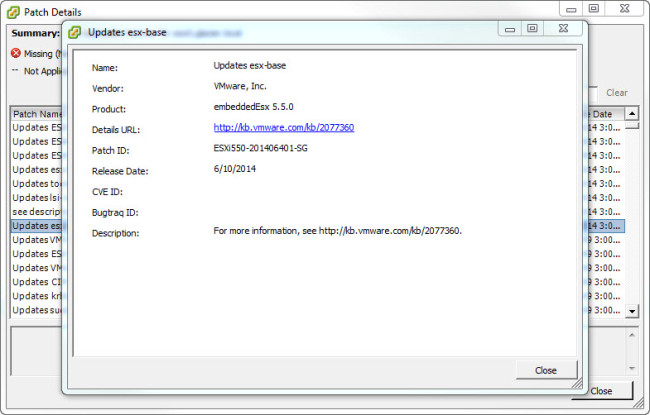 I have since applied the patch to all of my hosts and the NFS APDs, which were happening very frequently, have since disappeared. I am now running ESXi 5.5.0 build 1881737 and have run several IO intensive jobs against my NFS datastores using IOmeter and ATTO Disk Benchmark without triggering an APD.
You might want to let this bake in your lab or pre-prod environment for a few weeks before applying it in production, but so far I have not seen any evidence to suggest that the patch does not resolve the NFS APD bug. Kudos to VMware for providing a bug fix and to the community for spreading the good word.