For those who follow this blog, or my Twitter account, be warned ahead of time that starting today I will be releasing a lot of content that covers events and announcements from VMworld 2012. You have been warned!
With that said, this is my first time in foggy San Francisco. So far, I've enjoyed exploring this town, including the cable cars that shuffle people back and forth from the Market street area to where they need to go. San Francisco has some really awesome views and food down at the Fisherman's Wharf – if you're in town for a bit, I'd definitely suggest going down by Pier 39 and checking it out.
Here are some things that you can expect from my social media streams, along with some of my first impressions of the VMworld 2012 bag.
vBrownBag Tech Talks
The vBrownBag crew is hosting a huge operation at VMworld, including some swag "brown bags" that have a neat set of stuff inside, tech talks, vExpert hours, and more. I believe this is all being broadcast live to the Interwebs.
Here is their USB stick! Very cool stuff.
I'll be speaking on Monday at 11:15 pacific on NFS with vSphere. Also, check out the complete schedule as they have lined up a ton of great speakers and guests!
Tech Field Day Roundtable
The infamous Stephen Foskett has arranged for a series of roundtable discussions on three different vendors while at VMworld: Nutanix, Veeam, and Scale Computing. At the discussions will be a large assortment of past delegates, including myself.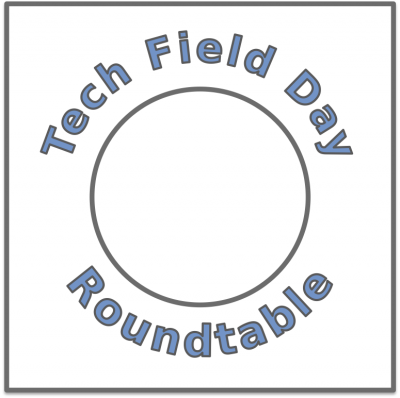 Per the Roundtable post:
Since we will have so many delegates together in one place, we will also be recording Field Day Roundtable videos and on-the-floor highlight videos to share this great event with the world. Our roundtables feature a group of independent folks as well as representatives from our sponsoring vendors discussing the day's announcements and cool technologies.
If you have a moment, tune in and check out the buzz around these vendors, as the TFD delegates are known for not holding anything back. If you can't make it, I'm sure Stephen will make the videos available for later consumption.
The VMworld Bag
The VMworld bag is an iconic and much talked about part of the VMworld experience. Each year, I imagine that John Troyer (and his team?) go through a couple thousand design variations, color schemes, and logo placement ideas to come up with the VMworld bag. This year's bag has really stepped up to the plate when it comes to design, form, and features, and can arguably be labeled the pinnacle in bag swag.
The bag is a solid black in color with a grey-ish colored interior and trim. The canvas feels well made, the stitching is tight, and the overall weight of the bag is light. There are a ton of compartments, sleeves, and pouches inside (for both a laptop and tablet).
There are some neat features to the bag, such as a music cable flap on the top. There's also some front buckles that keep things in place, and Velcro straps inside to hold your devices in place.
The inside is filled with pockets. You can fit several pens and cards in the top area, with the other pockets being great for small cables (such as USB for charging phones and tablets) or adapters.
Thoughts
This year promises to be a pretty fun one for the Wahl Network blog – I've got a lot of great information stored up that will be hitting the wire tomorrow, both on the blog and on my YouTube channel. Make sure to subscribe by whatever you prefer (e-mail, Twitter, YouTube, etc.) to stay in the loop!
If you're at VMworld this year, I have a large collection of Wahl Network stickers and buttons that I'll be passing out. Don't be shy!